We have finished a new unit of study inspired by woven textiles. I designed these lessons for my 8th grade Visual Arts classes as a way to cover some basic design skills while introducing the students to cultures known for being masterful textile weavers. After we read an introductory handout we watched the video,"The Village of Textiles." It provided great visuals about the daily life of people in a typical family of weavers. The video is only twenty minutes long, and our class period is nearly fifty minutes, so I made a quiz to supplement the info on the video. The quiz required the kids to thoughtfully respond to the many steps it takes to gather wool, spin yarn, make dye baths and begin the weaving process. They also made connections to the role of each family member as illustrated in the video. I highly recommend that you pick up the video and also check out the wonderful multicultural teaching resources available at Crizmac.
I really enjoy collecting different textiles which I display and use in my home, so it was only natural that I would bring in some great textiles to share with my classes. I tried to stress the significant amount of time, effort and design skills that textile artisans have. I passed around heavy wool woven textiles from the Zapotec Indians of Mexico, like the one shown below. I also showed fine woven Ikat textiles from Indonesia, also pictured below. The kids were interested in the patterns and origins of these pieces, and they also wanted to know how much I paid for each one and where I bought them. I find that Ebay is a good place to find reasonable yet nice quality authentic weavings.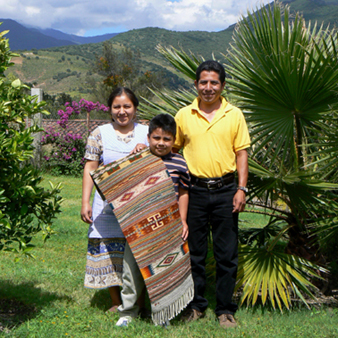 Jacobo Mendoza with wife Maria Luisa and son Jacobito who wove the rug he is holding.
A 19th Century Ikat weaving from Indonesia.
I can not stress the importance of sharing your love of all art, be it fine or folk, with your students! My students are always amazed that I have "real art" at my house, and that I collect it and enjoy it every day. One of the greatest gifts we can give our students is the ability to value and take pleasure in the viewing of art. I hope that this lesson will inspire you to share some of the art you collect as a way to enrich your lessons!